TSTV Africa have announced relaunch nationwide as they begin test broadcast service on Sept. 10, 2020 here is the full list TSTV channels.
Following Government directives to end the monopoly enjoyed by cable television service providers, especially Digital Satellite Television, owned by MultiChoice, a South Africa-based company.
A statement that included ending exclusive rights to sporting events as only DStv currently broadcasts major football competitions in Nigeria, especially the English Premier League
New cables television service provider and even those who were out of business due unfavorable monopoly are now gearing up to take advantage of the new legislature that put an end to such monopoly.
One of such businesses is the Tstv cable television service provider which after been launch back then, could not make it to the market because of the monopoly restrictions to sporting events which was enjoyed by Dstv only and Gotv only.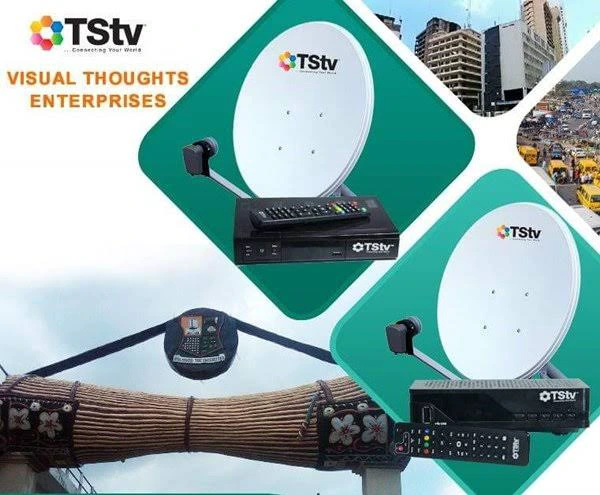 Today, Tstv is set to return and relaunch as Buhari's administration strive to put an end to unnecessary monopoly to the betterment of Nigerians.
Below is a statement released by Tstv as they set to relaunch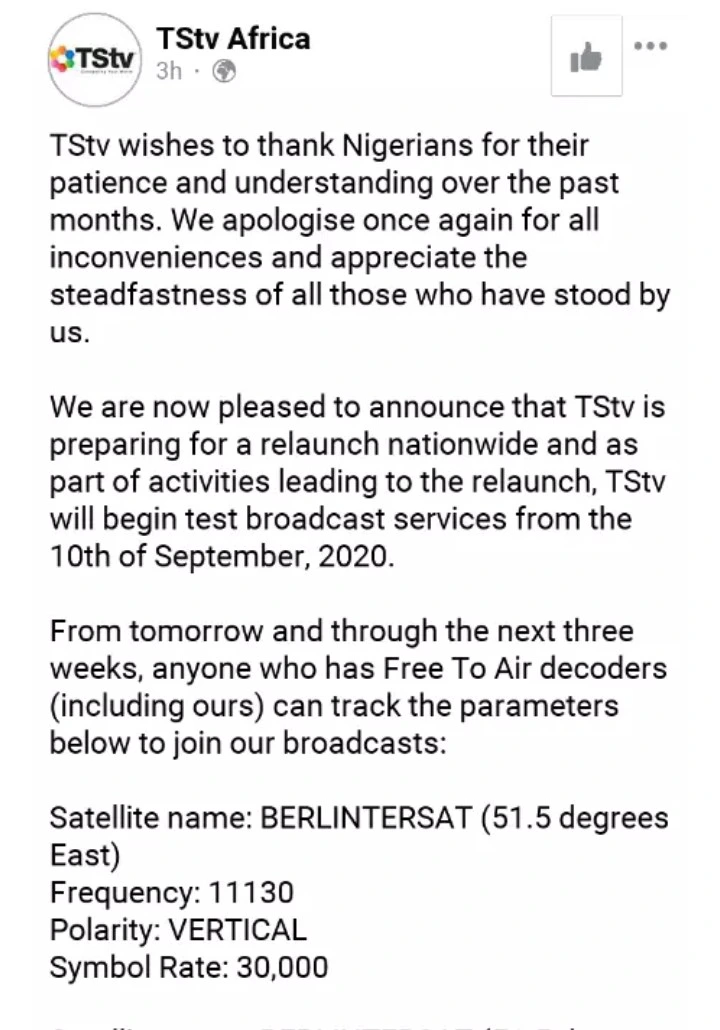 TSTV SPORTS CHANNELS
Star Sports
Fox Sports
Euro Sports News
Euro Sports 2
Kwese Sports 1
Kwese Free Sports
Kwese ESPN
MS Extreme
bein Sports MAX 4HD
bein Sports 3HD
bein Sports Global
bein Sports MAX (bein Sports 1-10)
TS Sports 4 HD
TS Sports 2
TS Sports 3
Yolo Sports HD
TSTV MUSIC CHANNELS:
Trace Urban/Africa
HITS TV
MTV Base
TLC (HD)
TSTV NEWS CHANNEL:
BBC America
CNBC
Aljazeera
BBC Radio 2
TVC News
Sky News
Arewa24
AIT
Core TV News
France 24 (English)
CCTV News
Channels TV
Bloomberg Television
DW
Fox News
TRT World
Press TV
NTA
Arise News
TV360 Nigeria
TSTV KIDDIES CHANNELS:
Nickelodeon
CN Carton Network
Disney Channel
Boing
JimJam
Baby TV
TS Junior Kids HD
Fix Fox
Panda Biggs
TSTV MOVIE CHANNELS:
Star Movies
MBC Action
MBC 2
Star Movies
African Movie Channel Series (African Magic)
Liberty TV
MBC Bollywood
Wazobia TV
WAP TV
Viasat Life
Fine Living
FOX
FOX Life
Investigation Discovery
MBC 4
MBox HD
PCTV
Star Gold HD
Nollywood TV
Z Cinema
E Entertainment
BEN Bridging The Gap
BET
TS Novella
TS Movies HD
TS Series
TSTV SCIENCE CHANNELS:
Discovery Channel
Nat Geo Gold
AD
National Geographic
Discovery Health TV
TSTV FASHION CHANNELS
Fashion One
AHTV
TSTV RELIGION CHANNELS
Dove Television
Emmanuel TV
Sunna TV
Mountain Of Fire And Miracles Ministries
EWTN – Global Catholic Network
TBN Network
TSTV AFRICA CHANNELS:
Riwa Ndu TV
TS Hausa
TS Igbo
TS Yoruba
TS Sports 1 HD