The Effect of pulling down Nnmadi Kanu's Facebook Account
Facebook pulled down Nnamdi Kanu's account. This came sudden and surprisingly to both members and loyalist of his movement.
However, His members worldwide piled up so much pressure asking that their leader's facebook account be restored and in a matter of hours, it got restored.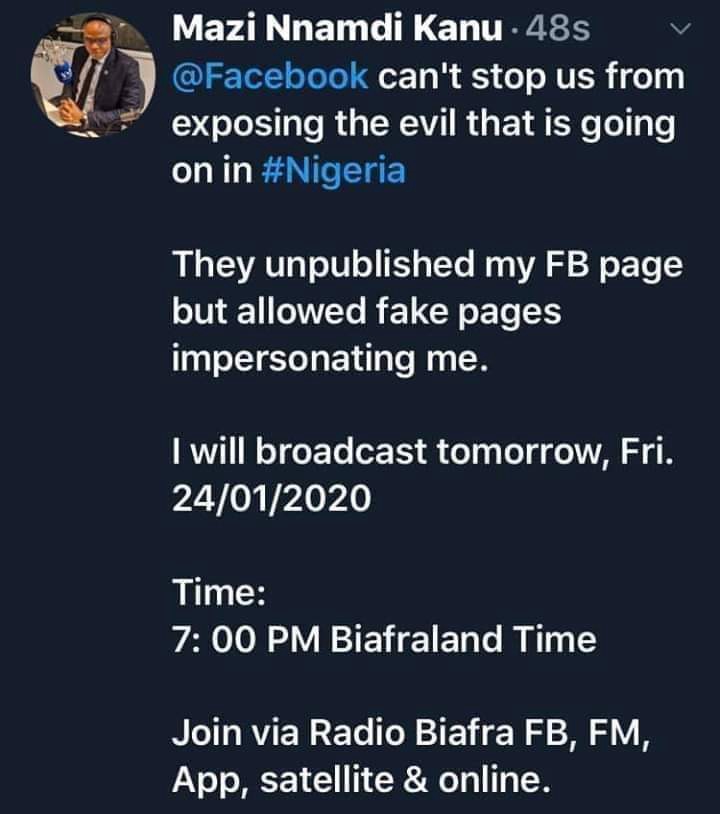 One of the major effects of this action by Facebook is that, the world will come to know that Mr. Kanu has a lot of truth to say or secrets to reveal but he's been shut down.
According to Mr. Kanu, he opined that this was a ploy by his critics to foil his ambition, movement and shutting him from saying the truth to the world.
Therefore, He has scheduled to speak live on same facebook app today by 7pm.
Another effect of shutting Mr. Kanu's account is against the human right of Expression.
WHO KNOWS WHAT HE HAS TO SAY?
There is strong suspicion that it may have been done on the request on the government of Nigeria, which is unconfirmed for now