Reactions Trail Video Of Mom Who Cried Out After Her 12-Year-Old Daughter Died At Chrisland School In Lagos 
Netizens have reacted after a mom cried out on the social media following the death of her daughter in a Lagos school on the school's inter-house sports day. The daughter was said to have slumped and died. 
Reacting to this, the mother of the deceased took to social media to lament the mysterious death of her daughter and seek justice as she claimed that her daughter was hale and hearty when she left home only for her to be pronounced dead after she left for school.
In the video by the mother of the deceased, she said that she didn't like attention, and all she wanted to know was what really led to the death of her daughter.
She said that the school had their inter-house sport on Thursday, the 9th of February, 2022 at the stadium in Agege, Lagos.
Her daughter had complained to her that their last inter-house sport, she wasn't present for her performance as she came late to the event. This made her promise her daughter to be punctual in the next inter-house sport.
On the 9th of February, her daughter left home hale and hearty for the event. When she (the mother) got to the venue of the event, she couldn't find her daughter. She saw their school bus speeding out of the venue. She was later told that her daughter had slumped, and the school bus rushed her to a hospital.
She made enquiries on the hospital her daughter was taken to. After so much trouble locating the place, she realized that it wasn't really a hospital her daughter was taken to, but an 'immunization center'.
To her greatest shock, her daughter was later pronounced dead. She added that what baffles her the most is that there was no form of first aid given to her daughter, no ambulance or qualified medical doctor on ground, and her medical report read "dead on arrival", that is, she had died before she was brought in.
She said that she asked the school for the details surrounding the demise of her child, but they couldn't give her a reasonable answer. All they told her was that she slumped and died, and she should accept her fate and go and bury her daughter.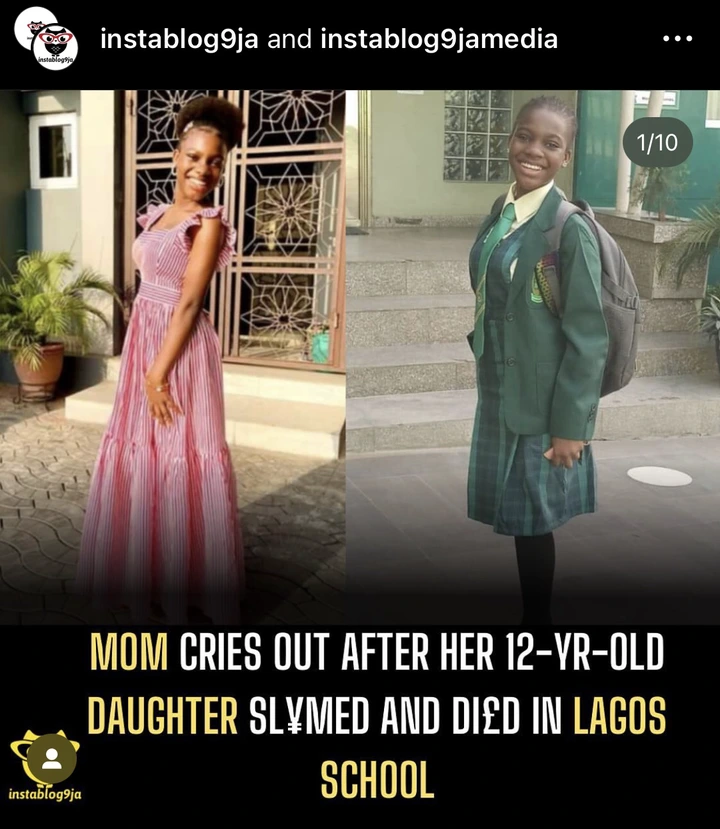 She said that she can't stomach this as this is her first child, her first fruit ever, and it is painful to see her leave just like that.
This has caused a stir on social media as people shared their various thoughts on it. Below are some of the reactions.