Reactions as veteran Yoruba actor Taiwo Hassan, Ogogo fights with area boys (Video)
Popular Nollywood Yoruba actor Taiwo Hassan popularly known as Ogogo in the Nigeria movie industry, recently got into a fight with area boys while on a visit to his hometown.
The Global News Nigeria learnt that the Nollywood actor took to his Instagram page to share a video narrating what led to his outburst with the area boys.
The Nollywood actor revealed in the quote " Before bloggers pick this up, let me tell my side of the story and the truth.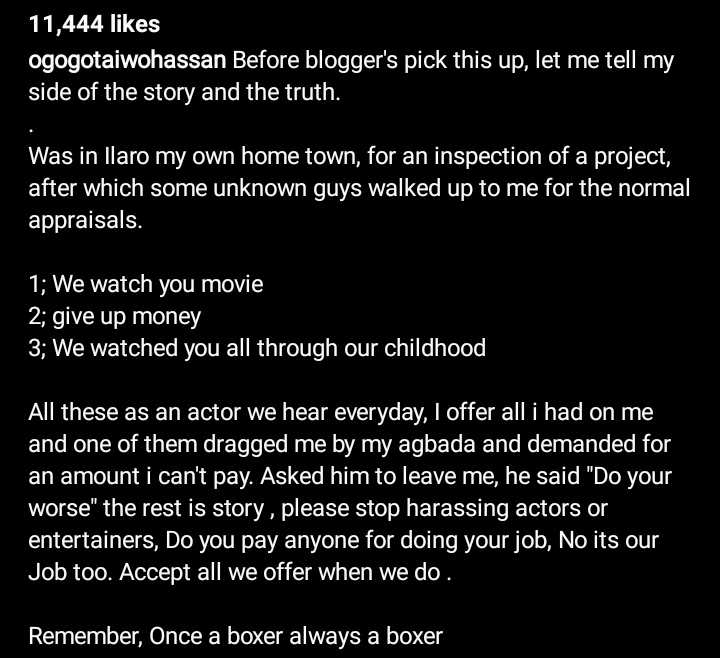 I was in Ilaro my hometown, for an inspection of a project, after which some unknown guys walked up to me for the normal appraisals. We watch your movie, give us money, we watched you all through our childhood.
All these as an actor we hear everyday, i offered them all i had on me and one of them went ahead to drag me by my agbada and demanded for an amount i can't pay."
The actor went on to reveal that the guy told him to do his worse after he had asked him to let go of his cloth which he didn't. The matter escalated from there.
Ogogo pleaded that people should stop harassing actors or entertainers in a bid to collect money from them.
The video elicited reactions from social media users and some of his colleagues in the entertainment industry.
Video