RCCG Annual Convention: Pastor Adeboye Announces Date, Time For Ordination
The General Overseer of the Redeemed Christian Church of God, Pastor E. A Adeboye has announced that Ordination 2020 will be holding at Redemption Camp on Saturday 15th August. He just announced the news days after the Ogun state Governor, Dapo Abiodun said the restrictions on worship centres have been lifted and churches can now open for service.
The Ordination will be a physical gathering, unlike the convention which was in virtual mode. Nevertheless, Daddy G.O had said the ordinands will not be using the auditorium, but an open space in the camp ground. The Ordination session are scheduled as follow:
Ordination Periods for Deacons/Deaconesses – 10am to 12pm;
Ordination period for Asst. Pastors – 12pm to 2pm
Ordination period for Full Pastors – 2pm to 4pm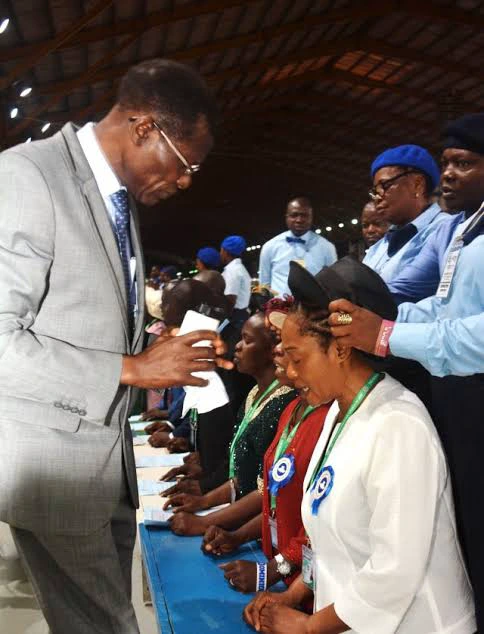 He also released some information concerning the gathering, while ensuring that guidelines are put in place. Here are some of the guidelines to be observed in respect to the August 15 meeting;
– All ordinands must make sure to come with their nose mask, hand sanitizers, decent dressing, and towels to knee on the ground.
– There should be no carriage of bags, loads, travelling kits and the likes
– Every vehicle should be parked at Car Park B. Ordinance might have to trek shortly to the ordination ground.
– People traveling from afar should ensure they arrive to sleep over before the day while those that are near the Camp should ensure they come same day.
– There will be no room for ceremonial activities as you are expected to come alone. No accomplice such as spouses, friends, children.
– Identification Card will be given to every ordinance so to gain entrance to the camp ground. How to get the I.D Card shall be communicated in due time.
– Members that will be ordained as Full Pastors will be communicated by the authority of the Province on how you will do your fasting and prayer.
Kindly pass the information to the concerned. God bless you all. Jesus is Lord