The major contenders for this year's governorship election in Ondo State are Rotimi Akeredolu of the ruling All Progressives Congress (APC) and Eyitayo Jegede of the Peoples Democratic Party (PDP) who is hoping to secure a victory after losing out in 2016. And the Zenith Labour Party (ZLP) and deputy governor of the state, Ajayi Agboola, who is running against his principal, Rotimi Akeredolu of the All Progressives Congress (APC), who is also seeking to secure a second term.
Both Mr Akeredolu and Mr Jegede went through difficulties before securing the governorship tickets of the two major political parties in Nigeria. For Mr Akeredolu, he had problems within his cabinet following his fight with the deputy, Agboola Ajayi, and the Secretary to the State Government, Ifedayo Abegunde.
The election took place in 3,009 polling units in the 203 wards of the 18 local government areas in the state. And among the total of 17 parties who took part in the election, it is a three-way race between the All Progressives Congress, Peoples Democratic Party and the Zenith Labour Party as expected. The Governor of Ondo State and APC candidate, Mr Oluwarotimi Akeredolu, scored 413 votes as against 12 votes scored by the Peoples Democratic Party candidate, Eyitayo Jegede. Akeredolu voted at Unit 5 Ward 6 Ijebu Owo in which the Zenith Labour Party scored zero in the unit.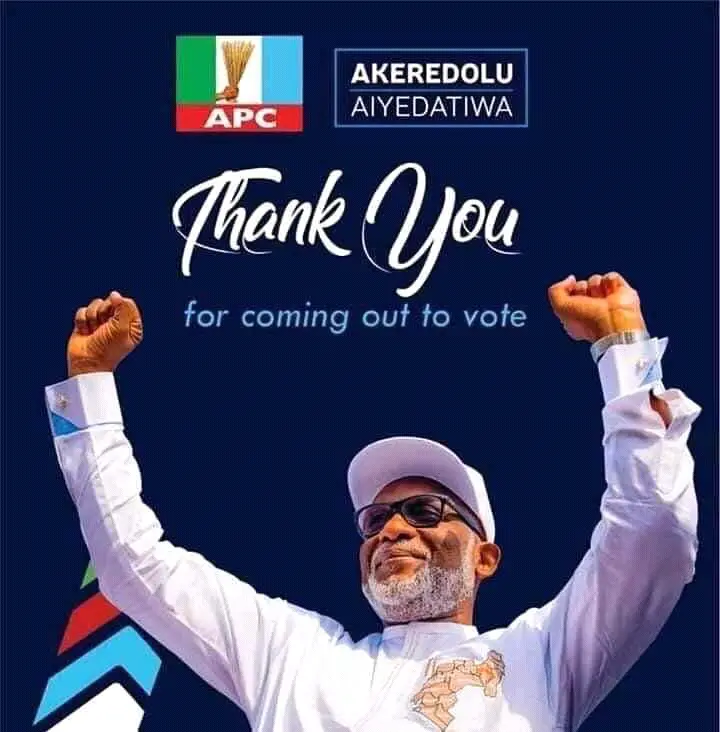 Independent National Electoral Commission (INEC) has declared Oluwatoyin Akeredolu the winner of the Ondo State gubernatorial election today. Mr. Akeredolu will return as the Governor of the state for a second term. The results were declared by INEC on Sunday afternoon after the results were counted from all LGA's on Saturday. Governor Oluwarotimi Akeredolu, the candidate of the All Progressives Congress, has scored the highest number of votes in Saturday's Ondo State governorship election and has been declared the winner. Governor Rotimi Akeredolu of All Progressives Congress had 286,135 votes (15 LGAs), which was enough to be declared a clear winner over Eyitayo Jegede (SAN) of the Peoples Democratic Pattywith 193,348 votes and the incumbent Deputy Governor, Agboola Ajayi of the zenith labour Party with 66,963 votes.