Nigerians Reacts As Anthony Joshua Applied For His National ID Card And Was Given Within 15 Minutes 
A Twitter user @mrmanhere_ has revealed that the Nigerian born American heavy weight champion Anthony Joshua has applied for his National ID Card to proof that he is a qualify citizen of Nigeria.
Nigerians has allegedly reacted as Anthony Joshua got his National ID Card within 15 minutes as they share their experience on the issues.
Some people has not getting the permanent ID Card since 7 or 8 years when they applied for it.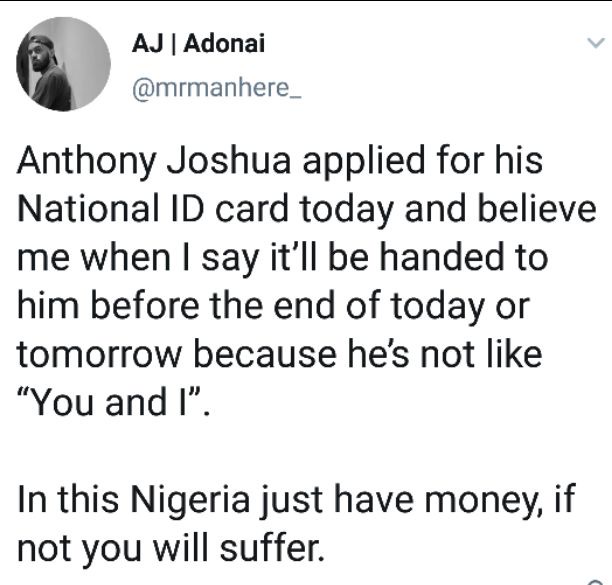 This Tweet has cause mixed reaction on Twitter ASAP and is trending now.
Here are some of the Nigerians reaction gathered by globalnewsng on Twitter
"What if I tell you that they will send someone to deliver it at his house? He won't have to come again for collection."
"I swear. Same day delivery for him"
"AJ did not knock out Ruiz to be like me and you mbok"
"It's my grandchildren that will collect my own permanent card for me"
"September small. Since october 2013 i neva collect till now"
"I have registered for the same national ID card for 7years now, I was only issued the slip"
"I didn't even bother to register cos I know how the story go be"
"I got mine the same day I applied."
"My guy, since September last year them never give me my own. Na so so "come back tomorrow, no network today." So sad man !! 😥"
"Ordinary sept last year.
We that did since 2014 nko"
"I got my NIN Slip the same day I registered in October 2019. The only issue was that I had to turn on my WiFi for them to use because they had network problem."
"It was handed to him in 15mins aswear."
What can you say about this drop your comment, share the post to reach more people.