Mr. Agu 5 key words after tortures by military operatives for wearing Biafra clothes
Recall the launch of a Military operation in the South-East by the Chief of Army Staff (COAS), Lieutenant General Farouk Yahaya in Enugu state on Monday. The operation is codenamed Exercise Golden Dawn; and it is allegedly meant to tackle the above unbearable ugly breakdown of security by some killer elements in that region of the country.
To this effect, there has been more Military presence in all the five States – Anambra, Abia, Ebonyi, Enugu And Imo – of it. And in the middle of this, an unexpected incident took place in Onitsha yesterday.
About a day ago, a couple of Military personnel who were on duty along Iweka Road in Onitsha the capital city of Anambra State had caught one of the most popular Nollywood actors dressed in a regalia that was made with a Biafran flag. The garment, to briefly describe it, actually has the usual vertically arranged red, black and green colours, and a half-size sun that is yellowish in texture.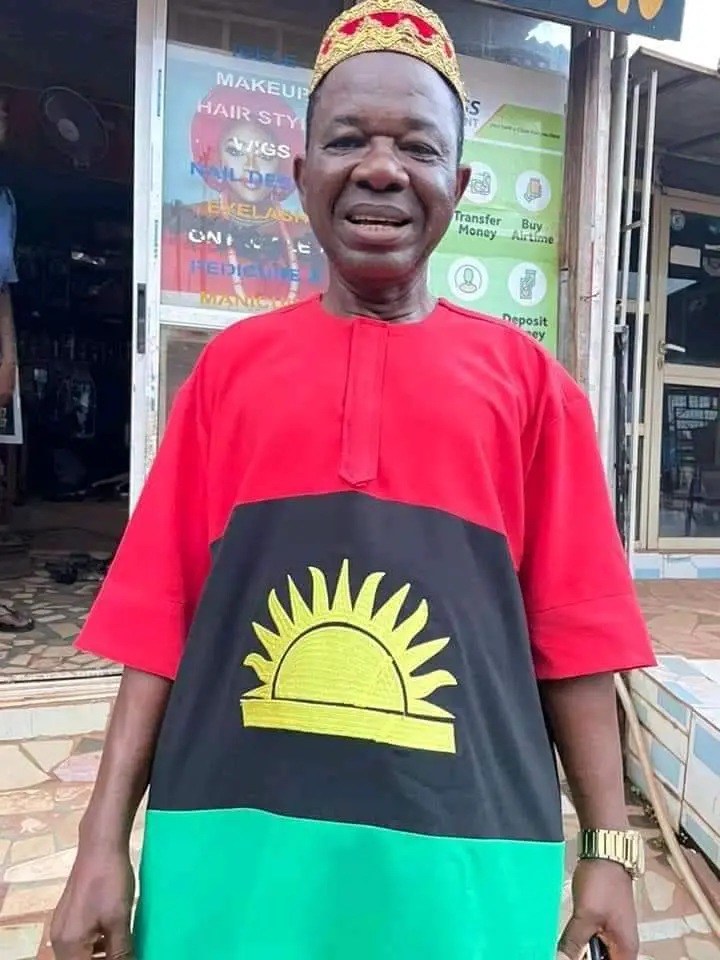 The security operatives had accused him of campaigning about Biafra to the public. But on his part, he claimed that he was only performing the humanitarian service of sharing bread to some destitutes who were hanging by the road side. However, in the course of his trying to defend himself to his arresters, he demonstrated some acts that proved that he is indeed a master of his acting profession.
Sitting on the ground hilariously like he was acting a movie role, Mr Agu said five key things in defence of himself. They are as stated bey:
1. He said that he was only wearing a civil dress.
2. The dress contains only a rising Sun, but not Biafra, nor ESN.
3. He was only giving bread to the needy.
4. He did not campaign about Biafra and the ESN.
5. With his level of education, he knew the places to go and those not to go.
But how right or wrong was the renowned Nollywood star to have worn the problematic dress in a place where he glaringly saw the presence of Military men who were on duty?