Italians Throwing their Money on the Streets, Claiming it's no Longer Useful to them amid Coronavirus
The news circulating the social media on Italian throwing their money on the streets, and that it is no longer useful to them as claimed by so many social media posters is fake.
According to India Today, an Indian Publication, "India Today Anti Fake News War Room (AFWA) has found the claim along with the pictures to be misleading. The one-year-old pictures are from Venezuela.
Read Also: Some Lagosians does not observing lockdown order amid coronavirus
The misleading post has been circulating like wildfire on social media. With the help of reverse search, we found that these pictures are available on the Internet since March 2019, several months before the coronavirus outbreak.
A report by "Snopes" says these pictures were taken in Venezuela in March 2019. The currency seen lying on the streets is Venezuela's old currency, the Bolívar Fuerte, which was replaced by a new form of currency, the Bolivar Soberano, in August 2018. Venezuelans threw their old notes on the streets as they became worthless for them." Indiatoday.in revealed.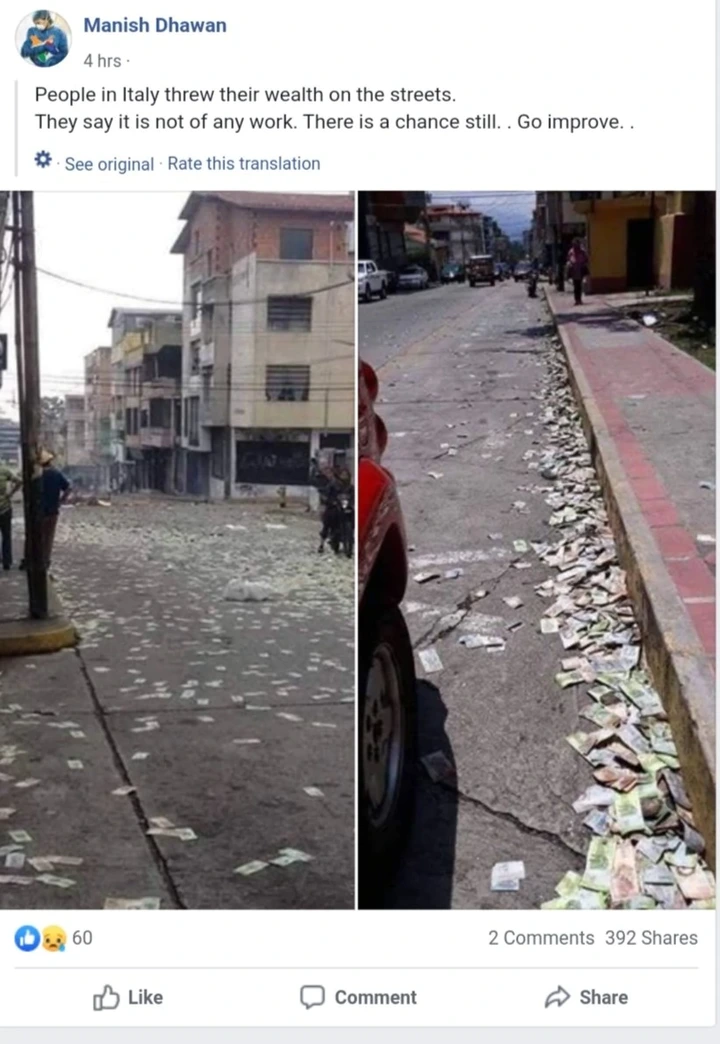 This confirmed that no one in Italy is throwing money on the streets as many news and social media posters claimed.
Truly Italy have been hit so hard with Coronavirus (COVID-19) but are not giving up to the extent of throwing their cash away, the the pictures going viral regarding this case is from Venezuela.