After the long Protest against SARS, the federal government finally heard the request of the masses, the Inspector General of Police (IGP) finally disbanded SARS, he gave an official statement saying that all SARS officials have been disbanded and they will be transferred to different units in the Police.
Well, From the look of so many reactions on social media, Most Nigerians are still not convinced about the Statement that the IGP made. They still want more than just a statement. Frank Edoho who is a Nigerian celebrity made a post about the Statement few hours after the announcement was made.
In his post, he said that since the President of the Federal Republic of the country feels that, his citizens are to small for him to address them on the issue, then the Inspector General of Police is too small for Nigerians to believe that SARS has been dissolved. Here is a screenshot of his post
"If the President of the Federal Republic of Nigeria feels we are too small for him to address, then the IGP is too small for us to believe that SARS has been dissolved!
Until then,
"God will punish SARS for all the killings, extortions, violence, carnage and abductions. They will call for help and like their victims, no one will come to their aid. They will shout their voices hoarse in anguish but all they will hear is the laughter of their victims. AMEN!
"We should all be very angry on a daily basis for the next 6 months. In terms of population we are larger, in terms of intellect we are more cerebral. In terms of strength we are indefatigable. All we have to be is consistent. And I am so proud that the youth are finally rising!!!"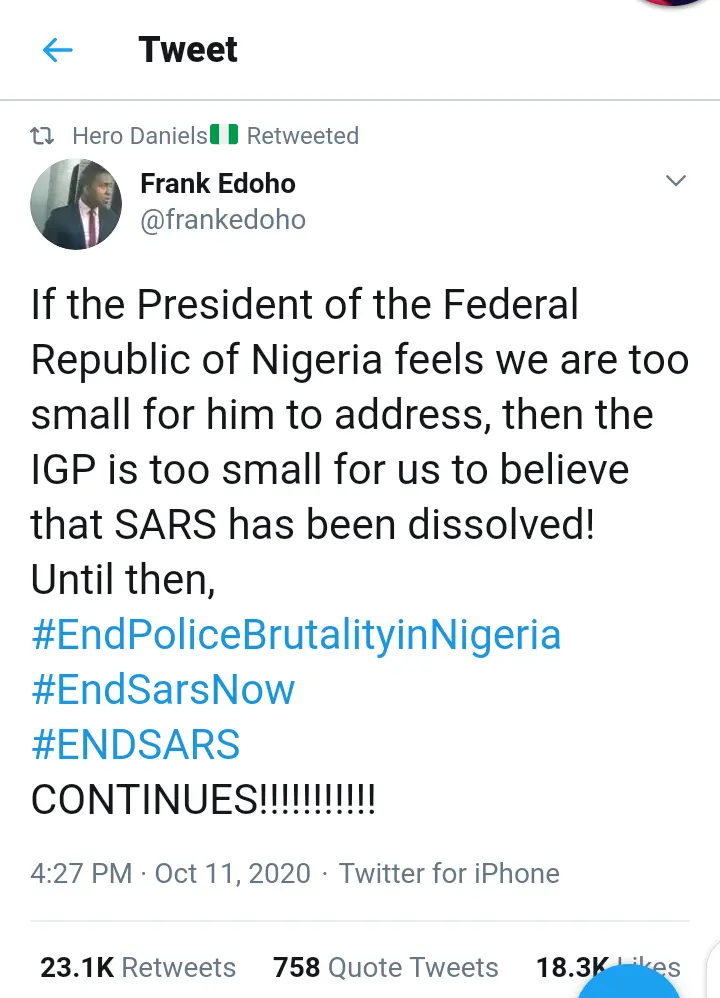 For Frank Edoho, he believes that the President needs to address the Nation, before people will believe. So Untill the President address the Nation, and people see positive changes, I think many people will still continue with the Protest. Here are some Reactions on Twitter.