Daddy Freeze reacts to TikTok user sleeping with dogs viral video for N1.7m
Social media influencer Daddy Freeze has reacted to the viral video of a girl who claimed that she slept with a dog for 1.7 million naira some days ago.
However, following a report of the police's announcement to arrest the individual with such a diminishing act, as well as the backlashes she received from some Nigerians, the young lady who through her TikTok claimed she slept with dogs and got a huge amount of money through it has now made a u-turn over her statement, as she has confessed that it was only a piece of cruise and that her claim of sleeping with dogs video was false.
While reacting to her confession about the story, Daddy Freeze said, "Clouts gone terribly wrong…"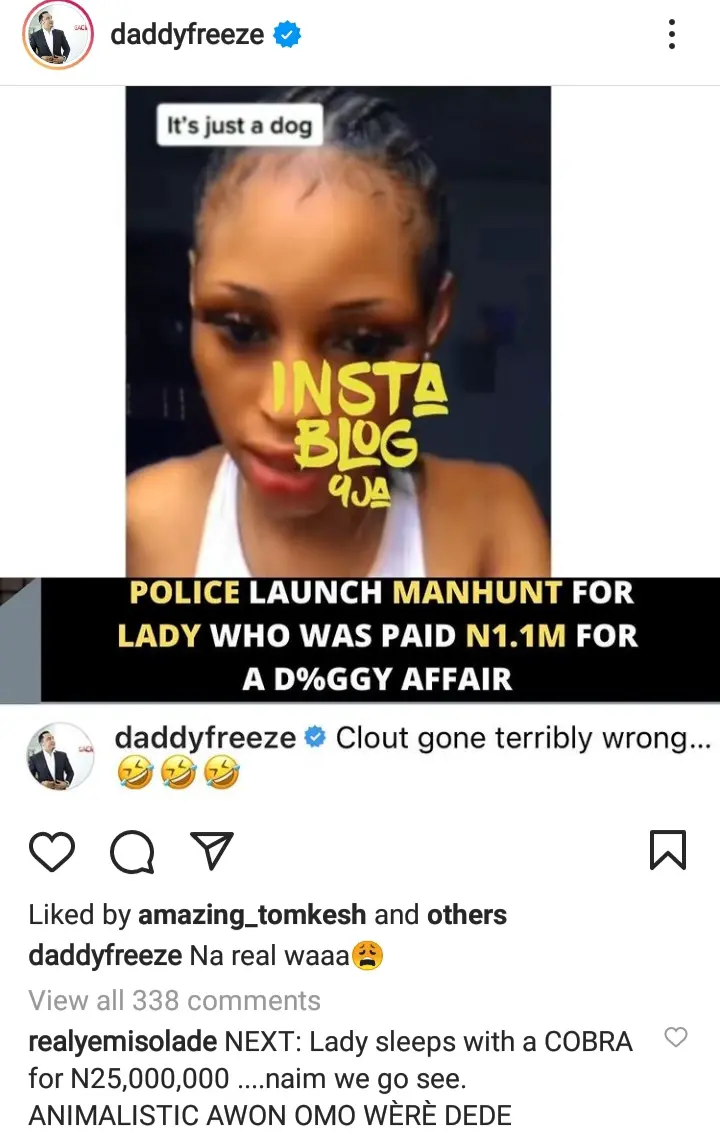 Photo Credit: Instagram, Daddy Freeze
Yes, of course, not many things one should joke about in life as one may never know which one tends to land him or her in trouble.
Recall that, of a truth, there were trending reports of some ladies at Lekki, Banana Island and Dubai who have allegedly had intimacy with dogs after the owner of the dog gave them a huge sum of money that was worth up to N1.5m or N1.7m.
There is no doubt the level of poverty as well as poor education level could have pushed such ladies into that kind of dirty acts, all in the name of getting a big amount of money in return. Other reports had said that it is not only dogs that these desperate girls have intimacy with but some other dangerous animals.
Although the real perpetrators cannot yet be traced, there are reports that the lady who claimed in the viral TikTok video to have committed the act might be in hot soup for what she broadcasted even though she has recanted that it was all a piece of fun.
But whether fun or real, now she must be regretting using such an act to make a joke as many, including Daddy Freeze, believes her joke had gone very wrong.