The Oppo mobile brand started up a competition on twitter between Big Brother Naija housemates over who is supposed to win their brand endorsement. The housemate with the highest amount of likes, retweets and comments on twitter was supposed to be named their brand ambassador after 24 hours of voting.
It came as a surprise to everybody today when they decided they are no longer announcing anybody as the winner of the competition because they don't want anybody to get biased by the winner and think their competition determines who wins the show, and so they would only announce the winner when the show ends.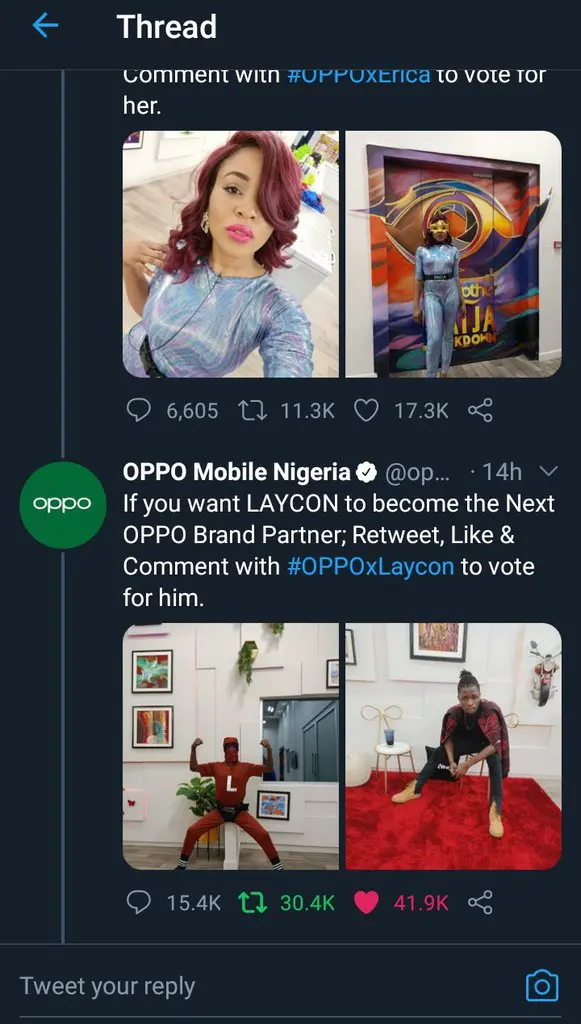 This decision by Oppo seemed unusual and unnecessary because the winner of the Oppo challenge was already obvious because everybody could see who had the highest amount of likes and retweets and so that is why their reluctance to announce the results made Laycon's fans to blow not and cry foul play.
Also their decision to not announce their brand ambassador because the winner is still inside can be easily dismissed because other brands are endorsing housemates who are still inside the house. The chances of an housemate refusing an endorsement from them is very little and if anybody refuses, they can easily revert to the next highest person. But then, it's their brand, their decsion.