Veteran Nigerian actor Yomi Fabiyi has taken to his official Instagram page to narrated how he escaped Lekki toll gate shootings in Lagos on Tuesday night.
The Global News Nigeria gathered that Nigeria Soldiers were on rampage shooting live bullets at #EndSARS protesters at toll gate plaza, meanwhile actor Yomi taken to his official Instagram page to narrated how he escaped the Lekki toll gate plaza killing, "This video was 24hrs be4 the attack in Lekki. I would have gone back on the day of the attack but something happened. Some set of protesters felt threatened with my kind of protest and status and because I warned that changing from end SARS could attract more attacks. They assume my sacrifice are too much for an actor and concluded it is for clouth. They tried chase me away twice but at any point they scream go away, I stayed, they were filming me. They notice some fans were there sympathising with me, they resorted to blackmail. I was alone and in their numbers they told onlookers that I never slept on the floor of the assembly but posted to deceive people I did. The most horrible part were the ones we slept together and I bought food for. Some of them gat conscience left in them and tried to caution the rest for that blackmail because I do live videos those midnights. And they could be talking to my followers and their evil intentions will put them in harms way. One of them even said we actors are all Asiwaju Tinubu boys.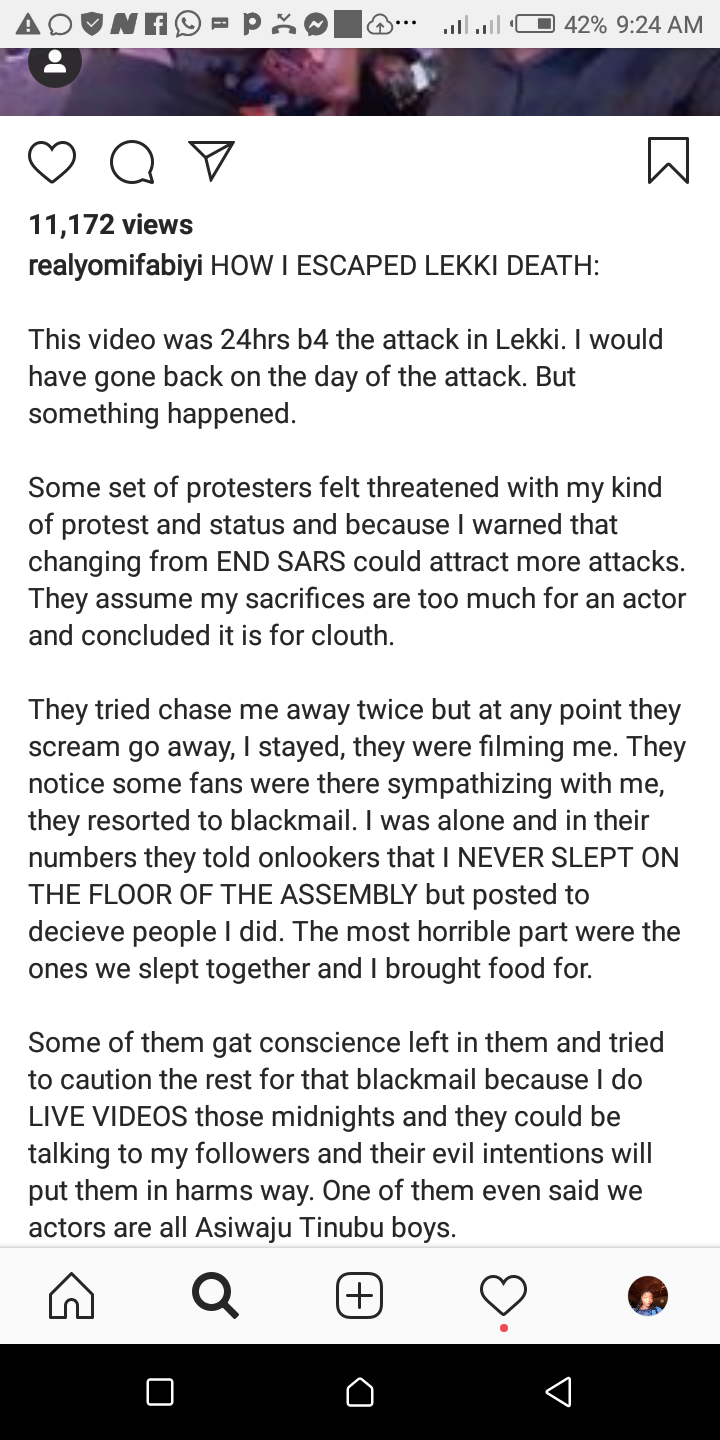 The Global News Nigeria learnt that he further narrates what transpired while leading the Alausa protest before heading to Lekki
"They are a group and I am alone. They concluded they should not give me microphone to speak again and we barely greet. I stood my ground that they can't chase me away but I avoided physical exchange, I know the danger for them. I avoided distraction, five moved to my side and we decided I won't sleep overnight in Alausa again but Lekki. Hence I do leave after day time rally in Alausa. Immediately they began attacking me on Twitter and I saw some and as usual, I just ignore. No time for national nonsense. The attached video with Funnybone and Acepella was a day before I noticed a red flag on me. The fans screamed me on arrival to the place and got me to the front but the Twitter attack or so got them decide not to give me the microphone despite the message I have. If they had allowed me to talk that night, I will be there the second day and I may have been part of the dead. I was invited to speak at different locations in Ikorodu which was going well. I did the last protest I got info of Lekki attack and Alausa. I tried rushing to Alausa to check on my Comrades, all roads blocked, identity difficult with area boys he wrote. This talented actor Yomi Fabiyi really tried because he was always active in the protest grounds", he said.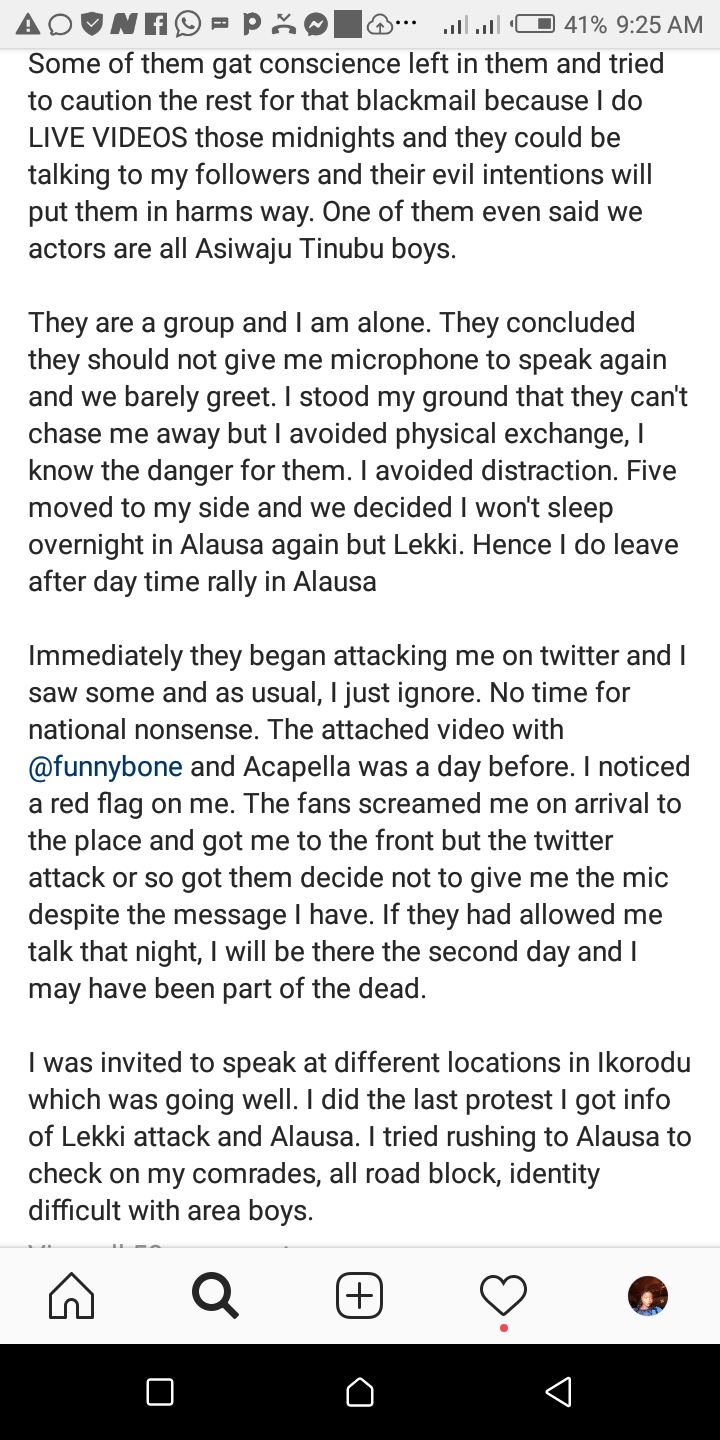 Recently Yomi let down his voice again to picture the real meaning of End SARS, according to him, it means "END TORTURE"
"END SARS means END TORTURE. If the people know they are not under threat and will not be abused, brutalised and murdered while testifying they will prefer to speak the truth and equally come forward to testify. Torture is one of the unseen tragedy that kills a society or country from growing. It makes the entire country unsafe hence it is criminal, ungodly and unprofessional. ABOLISH TORTURE means END SARS.
Any Police Officer who cannot investigate intelligently and argue with facts during prosecution and trial should know he has not reached the truth. Using torture to collect statement is evil and must be eradicated.
Without all the demands of END SARS met, it will be an excercise in futility demanding other key developments that the society need. Only free people make demands and not get brutalised for doing so."